Saturday, November 17th, 9am — Noon
1st Annual Urban Paws Charity Event
Bring your pooches to get pampered!
Please support a good cause, and have fun while you do it! Local artists and businesses have donated over 15 art pieces and services to be used for the silent auction! Bring your well-behaved pets while you shop around at the Next-to-Nature mini store, play games with the Positive Approach Dog Trainers, and bid on your favorite items in the silent auction! The Tacoma Humane Society will be bringing adoptable bunnies! Don't forget to bring a non-perishable pet good like a collar, leash or toy to donate to the Dugan Foundation and Humane Society! Take care of your best friends by supporting this cause! Hope to see you there!
Hot Dogs and Bratwursts will be cooked on the grill at 11am! How appropriate!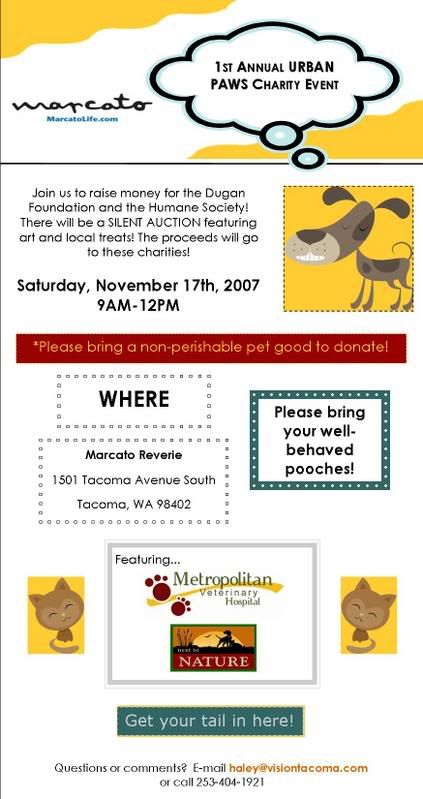 Cost / Admission
Bring a non-perishable pet good!
Link to more info »
Location
Marcato Reverie
1501 Tacoma Avenue South
Tacoma, WA, 98402
View Map →
Tag
auction/pets/dog/cat/charity/event/art/pet store/love